Tutorial

Welcome to the tutorial of ECGBUDDY !
Here you will find all functions of our ECG course at a glance – have fun!
At first you will find an overview of all chapters.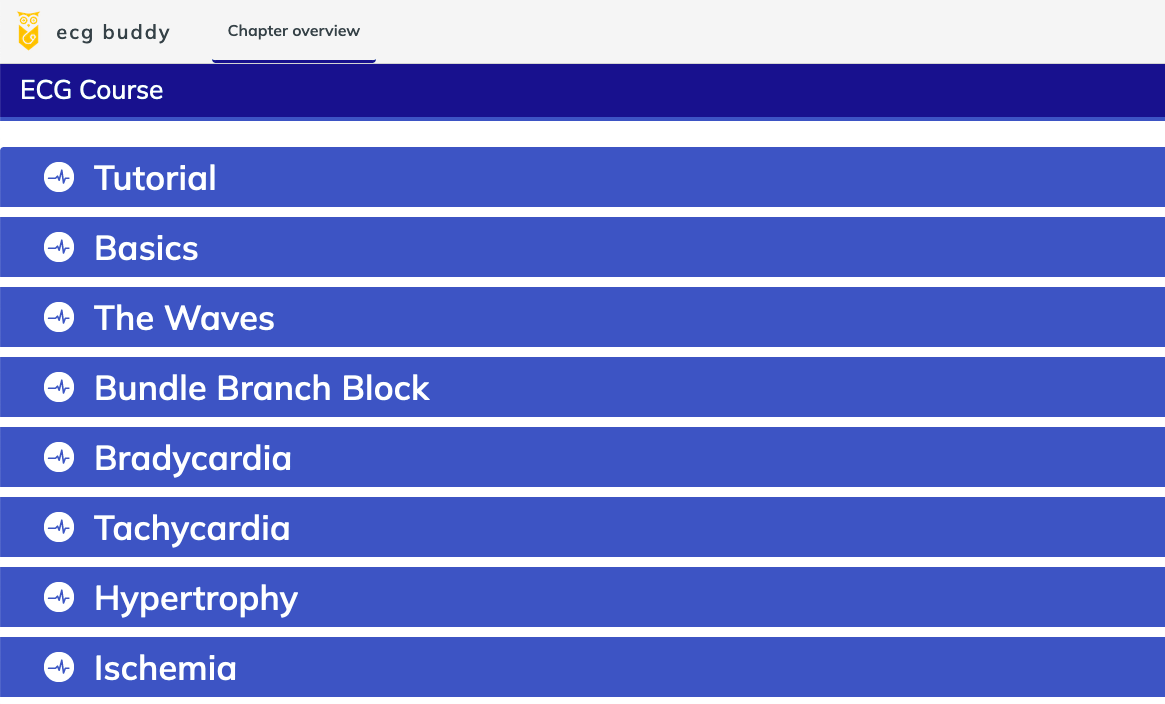 By clicking on one of the chapters all corresponding components open up.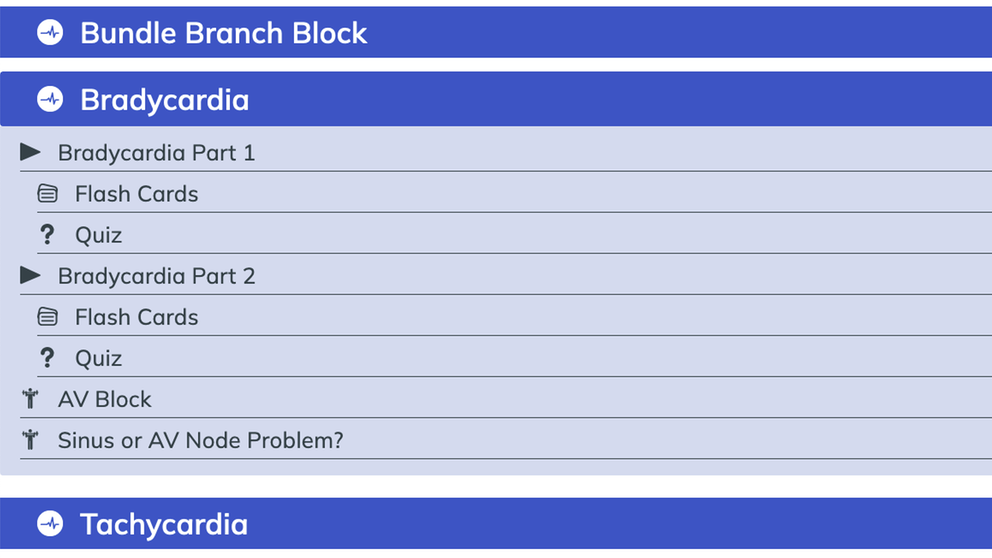 Video lessons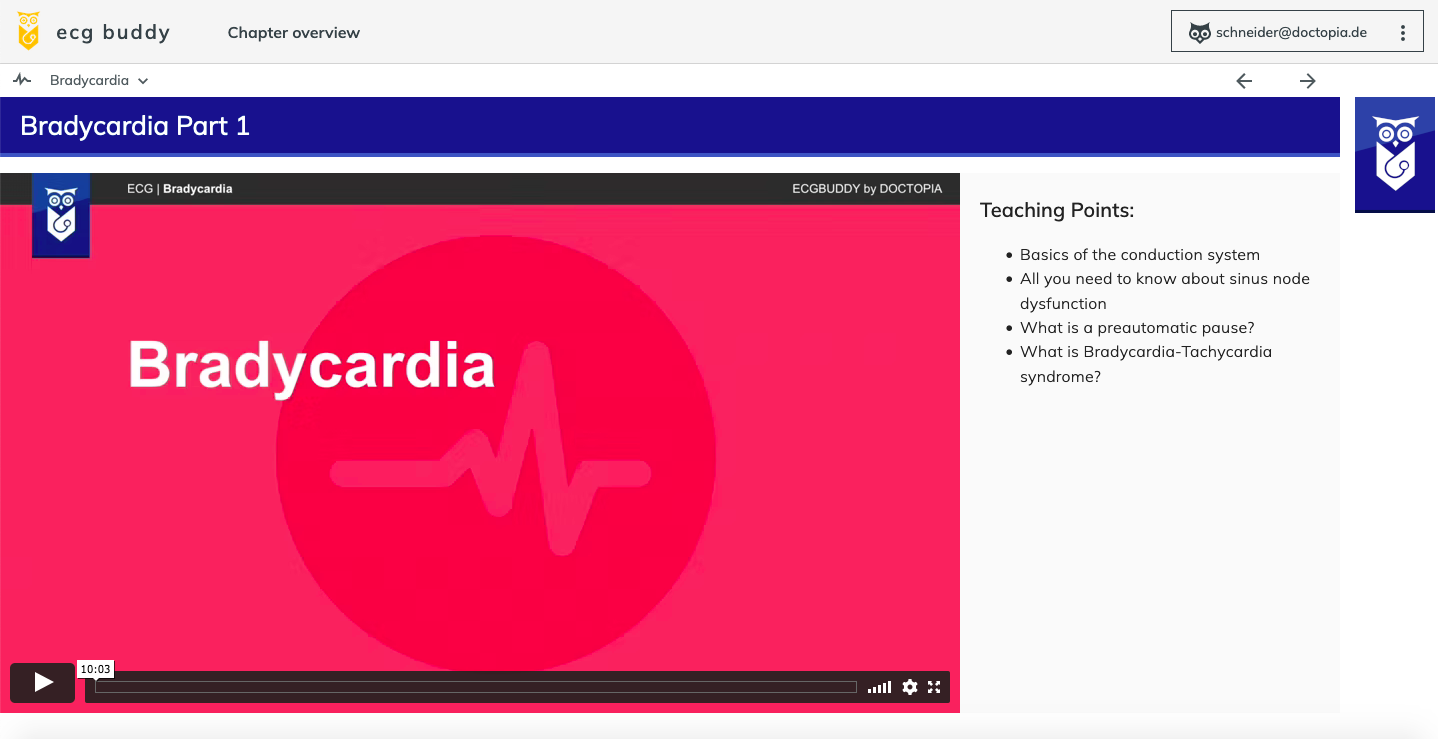 The videos can be played directly on the chapter page. Our course consists of more than 2.5 hours of video learning units.
All essentials are presented in a compact form. No unnecessary facts!
Below the video you will find more fun learning features!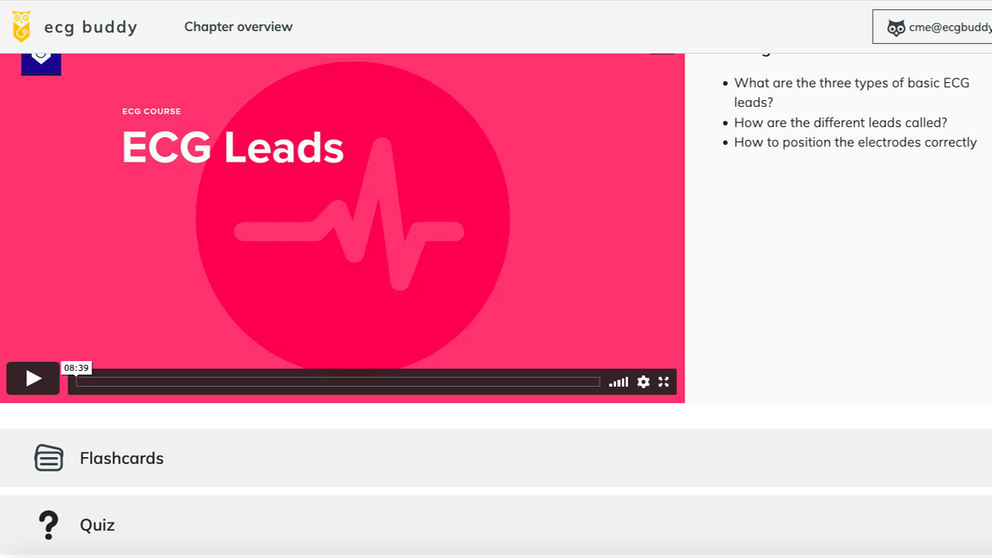 Flash cards
For each chapter there are flash cards you can use to learn and repeat the most important facts. Just flip the card to get the answer!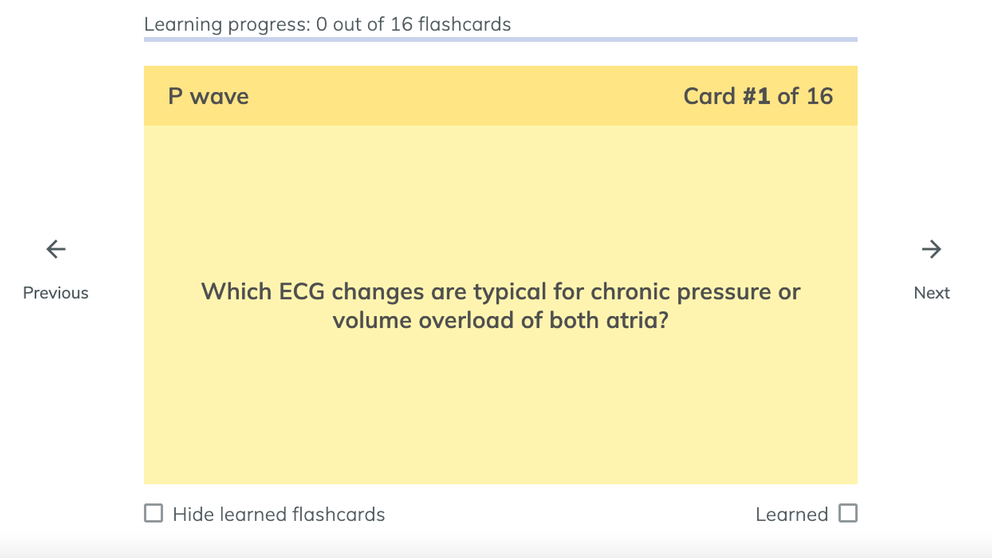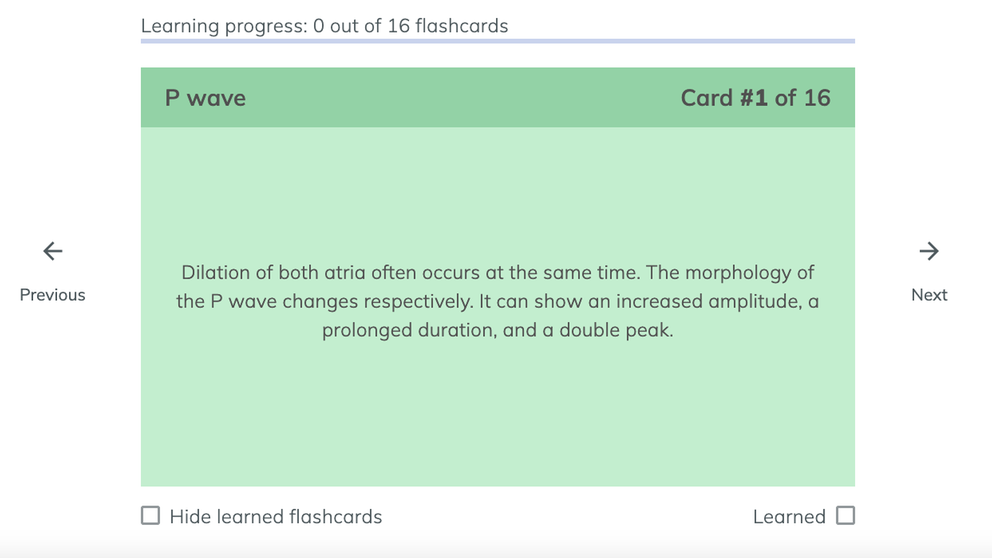 The flash cards are shuffled every time the page is reloaded, so you will memorize real ECG facts! Cards that have already been learned can be hidden for future learning sessions.
Quiz
The quiz checks your knowledge you have acquired from the video podcasts and the flash cards. Here, too, the order of the questions is new each time the page is reloaded. For each quiz question there are more than four false statements and - as far as this is possible for the question - more than one correct statement. The choices are swapped for each question every time the page is reloaded. This way there are always new possible answers.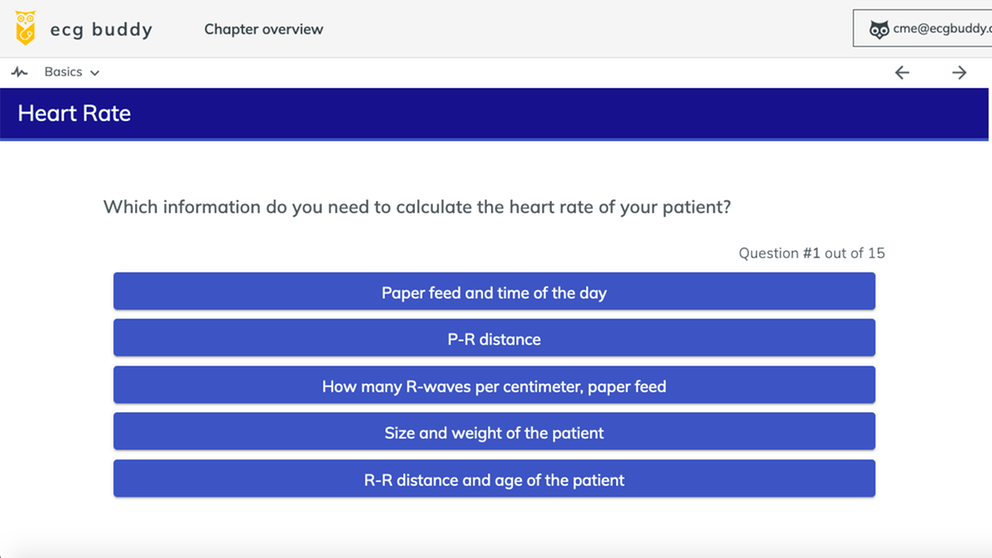 ECG trainer
The ECG trainers are the heart of our course. More than 200 original ECGs are stored in our system. All ECGs are fully assessed by experts. There is one trainer for each central teaching point, e.g. "are there signs of myocardial infarction?" or "is this a life-threatening condition?".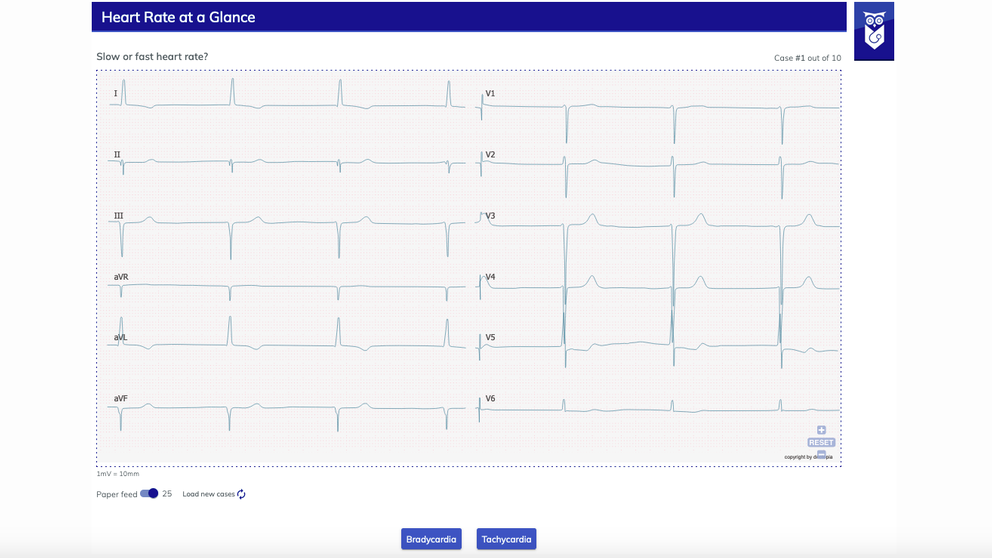 For each learning session, up to 10 ECGs are randomly selected from our database. You can find the respective question and possible answers below the ECG. On the right side below the ECG you can adjust the paper feed (25mm/s or 50mm/s) using the slide controller. At the bottom on the right side of the ECG you can enlarge or reduce the size with a mouse click and select full-screen mode. By clicking on "new cases" or by refreshing / reloading the website, 10 new ECG cases are randomly imported into the trainer.
Doctor Owl
Below the ECG you can find Doctor Owl.
Doctor Owl will give you his comment on the respective ECG.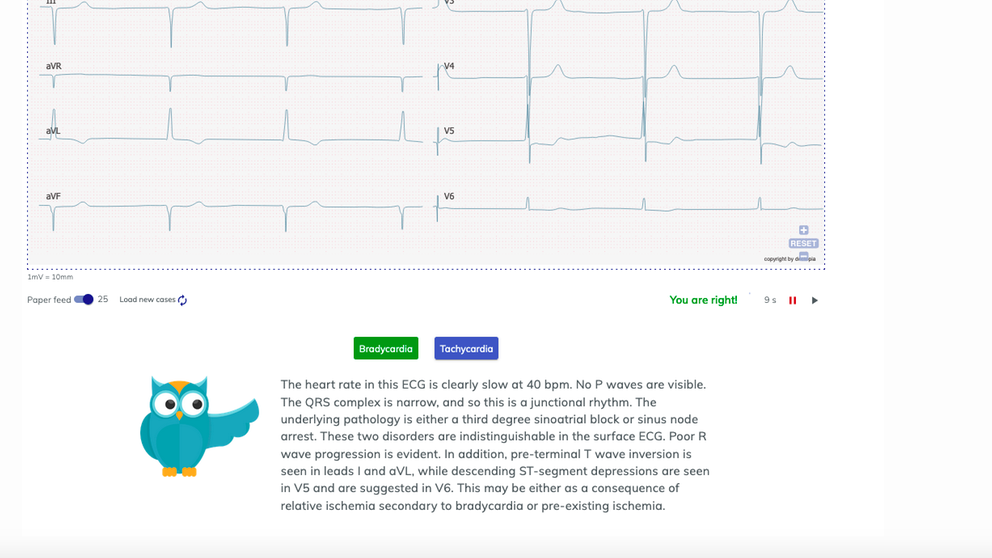 Have fun with ECGBUDDY and become an ECG expert!
ECG Course